Paper Pumpkin – Paper Crafting Kits in the Mail
Get ready for a joyful delivery in your mailbox! A specially-themed red box and supplies for 8 elegant cards are just what you need to get your festive spirit ready for this holiday season. The exclusive Joy to the World Paper Pumpkin Kit is also offers a fun and unique opportunity to connect with the global Stampin' Up! community.
With October's magical kit, not only will you get a head start on your holiday crafting‐you'll get to create Christmas cards, share project ideas, and spread holiday cheer with Stampin' Up! fans around the world! Join the Joy of Paper Pumpkin Facebook group once your kit arrives to make the most of this fun crafting experience!
Did you miss out on a past month's Paper Pumpkin Kit you just can't live with out? Reach out to me, call, text or email…
I may have one just waiting for you to purchase and create 😀
I pray you will stay safe and be well!
And As Always…
Make someone smile today.
Give the gift of something handmade and heartfelt!
Inky OXOX,
Jayne
---
New HOST CODE VXFHEG66
Thanks for using the Host code for your online order.
If your order is $150 before tax and shipping do not use the host code, you will earn free Stampin' Up product.
I have a Stampin' Up Store where you can purchase Stampin' Up products 24/7.
I value your business, my clients mean the world to me, most are dear friends.
———————————————————————————-
Add to Your Personal Supply of Crafting Materials
Our CRAFT subscription box also doubles as a STAMP subscription box. Every month, as part of your subscription, you'll receive a unique, decorative stamp set and at least one ink spot. Our stamp sets are ideal for all types of crafting projects. Plus, we don't repeat an ink color in a 12-month period, so you'll quickly collect a variety of reusable stamps and ink spots.
Design
Kit includes die-cut pieces in English, French, and German. This will allow you to create cards you can use to connect with other customers and demonstrators around the world—in their language! To learn more about how to do this, read the "The Joy of Paper Pumpkin" section on this page.
Project Type
Kit contains enough supplies to create eight cards—four each of two designs—and coordinating envelopes.
Coordinating Colors
Cherry Cobbler, Crumb Cake, Early Espresso, Just Jade, and Soft Sea Foam
Previous Monthly Kit Reveal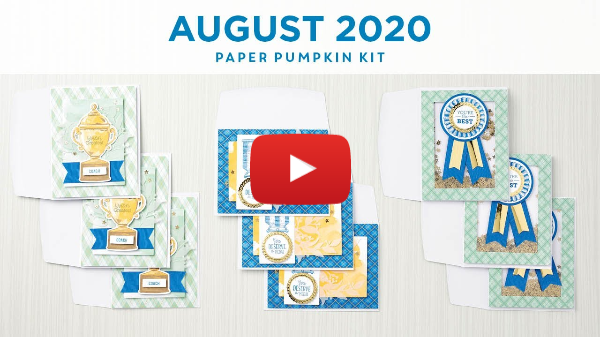 Subscribe to Paper Pumpkin before October 10th.