If you are like me, time just got away this holiday season.
!PANIC! I need a quick and easy treat for my office mates.
My first thought, what can I make a bunch of in a hurry, with supplies I have on hand?
My dear friend Sue Haas gave Reindeer Poop to my stamp club members as a swap.
Reindeer Poop, that's the ticket, problem solved, Thanks Sue!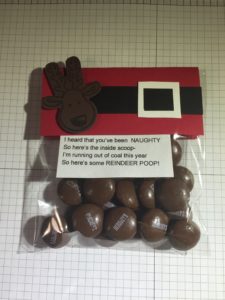 One of the things I love paper the crafting community is CASEing.
CASE stands for copy and share everything.
Here is my CASE of Sue's Reindeer Poop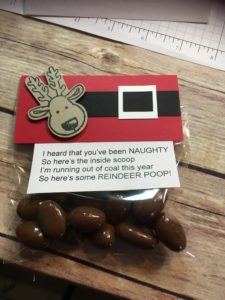 Please feel free to copy the poem and make your own Reindeer Poop.
I heard that you've been NAUGHTY
So here's the inside scoop
I'm running out of coal this year
So here's some REINDEER POOP!
Here are the dimensions and the supplies needed
4" x 4" Real Red Card Stock scored @ 2"
½ x 3 Basic Black Card Stock
1" Square of Whisper White Card Stock
1/2" Square of Basic Black Card Stock
2" x 3" Crumb Cake Card Stock to stamp the reindeer image
I used 1/4 cup of chocolate covered almonds for my "Poop".
For office mates who suffer nut allergies you could use Raisinettes or Hershey Drops
To assemble your "Poop" Treat follow these easy steps
Stamp reindeer image on crumb cake card stock using Tuxedo black memento ink
Punch the reindeer image using the cookie cutter punch
Fold the Real Red card stock on the score line
Line up your 1/2 x 3 Black card stock strip mid way on the right edge of your real red card stock
Layer  1″ square of whisper white toward the center of  1/2 x 3 Black strip
Layer  1/2″ square of black card stock to the center of the whisper white square
(this will create the illusion of  a buckle)
Cut the adhesive flap off your medium clear envelope
Fill with 1/4 cup of your choosen "Reindeer Poop"
Folder over and staple clear envelope closed
Affix Punched reindeer image with dimensionals to the left side of the real red card stock
Run a line of SNAIL on the front of your printed poem
(when cutting your poem be sure to leave about a 1 inch space at the top,
you will be using this space to affix your poem to your real red card stock)
Center your poem between the folded real red card stock
Add Tear n Tape to your real red card stock
Affix to your clear envelope
TaDa a really cute Reindeer Poop treat
As Always…
Make someone smile today.
Give the gift of something handmade and heartfelt!
Happy Holidays and thanks for dropping by,
Inky OXOX,
Jayne